pdrPro & learnPro User Group Meeting 2023
9th June 2023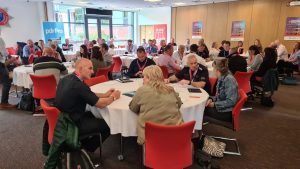 Last week, more than 50 pdrPro and learnPro users from fire services across the UK gathered in Cheshire for the annual User Group Meeting 2023. The day's agenda was full of exciting presentations on the latest news about the pdrPro system and learnPro LMS, during which users could share their feedback on using our products.
Users were particularly excited about the new Appraisals module for People Management and the upgraded Operational Assurance module. Both of these modules have been developed according to new guidance by the NFCC to help fire services become and stay compliant. A demonstration of the new Appraisals module was given by Vicki Aspell, pdrPro and learnPro Systems Officer at Cheshire Fire Service.
Another improvement that sparked much excitement was the proof of concept integration of XVR Expo and LAB Advanced. With this new integration, users can upload fully customised 360-degree virtual media from an XVR incident scenario into LAB Advanced. Learners click through the interactive points to complete their training tasks, and all progress is logged in the learnPro LMS. While still a proof of concept, all users were very interested and keen to see further developments.
Costi Karayannis, CEO of LearnPro Group, expressed his gratitude at the end of the event: "I want to say a huge thank you to Cheshire Fire Service and Vicky Aspell for all their hard work in hosting us today. Also thanks to all users who freed up time in their schedule to attend this user group and make it an absolute success. We have gathered so much valuable information and input on our products, and we have absolutely loved hearing from our users on where we can improve. It's great to know that our users keep pushing us to further improve our products and services."
If you are interested in learning more about the latest updates on pdrPro & learnPro, get in touch with us at [email protected].